Easy Posting jobs Income Plan
Income Plan of Premium Membership – Easy Posting Jobs
(New Plan effected from 25/04/2019)
Note:- It is not to be mistaken with dubious fly-by-night operators, or any Get Rich Quick Scheme. Neither is it a Multi Level Marketing (MLM), Matrix, nor any Pyramid Program.
Reason for collecting the Registration/Subscription fee?
The reason for collecting the Registration fees of online earning is for Consultancy Charge + Online Training + Account activation + Account maintenance + Online Support a complete support like phone support, chat support, email support and also for cross checking the reports submitted by the members every month and collection expenses to collect payment from client by our executives.  Membership fee is non refundable and we are not responsible if you don't take our support or if you don't work. 
Company Policy – We believe people are our strength and they are fundamental to our.
Registration  Registration is open to all with computer literacy and one can register themselves as and when possible. By calling / mailing / Visiting us. There are various grades of Registration. Only one registration is permitted per individual. The details of the schemes will be available at our office during registration or on line on inquiry.
                                                                        Premium Membership

100% Job Guarantee!! Start Your Job within 24 Hours.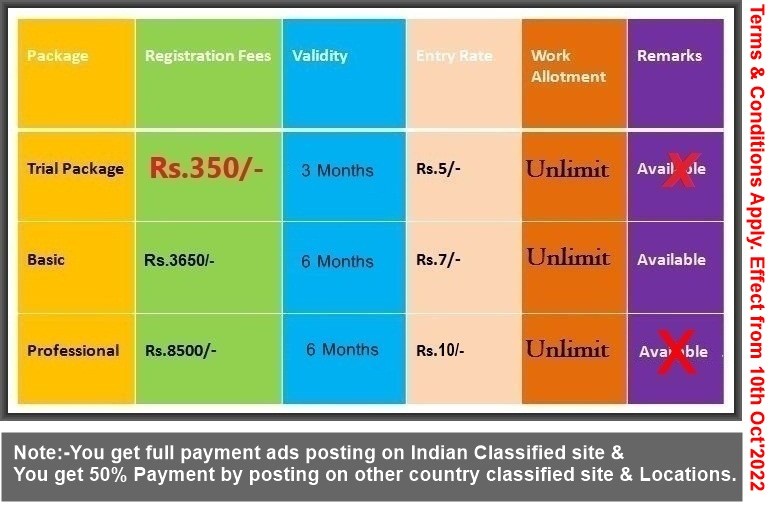 Earn Rs.200/- to 300/- For Every Joining Made through your Posted Ads. (Additional Earnings)
Registration Fees for International Subscriber
PACKAGES
TRIAL
BASIC
PROFESSIONAL
MONTHLY INCOME
1500 ENTRY ALLOWED

$225

1800 ENTRY ALLOWED

$270 

 2000 ENTRY ALLOWED

$320

ACTIVATION FEES
$85
$125
$160
ACCOUNT VALIDITY
6 MONTHS
6 MONTHS
6 MONTHS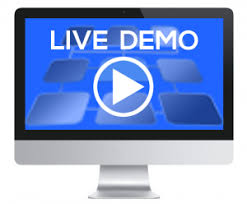 Payment Eligibility:-
For every candidates work and processing their jobs we need to invest a lot of human and other resources. If someone registers with us and doesn't work properly, at least up to a minimum volume, not only s/he losses the opportunity but our resources are wasted and we incur loss. So, as per our rules candidates must ensure they work and generate at least Rs. 500/- approved earning for them in every single month.
Important note:- If company  found 1st time any illegal  work like  wrong url submit, special character use etc. in your account then you will not liable to get the full payment, company deduct 50% payment from your earning  as a penalty  and your account also will be suspend ,if company found 2nd time any illegal work in your work then company will be terminate your account on without any prior notice
Induction of Fresh members – Register members are liable to get a commission for introducing fresh / new members for the company @ Rs. 170.00 Rs. 200.00 and Rs. 250.00 respectively for introduction.
The payments can be done in Cash / Money Order / Draft. These are the accepted mode of payments of our company. Registration is valid for a period of Six Months only. For payments drafts to be drawn in favor of 'Sawmitra Sarkar' or Universal Info Service™ payable at  Siliguri or Coochbehar,  West Bengal, India.
IMPORTANT:- We are always suggest you that read the details terms & conditions/demo work before joining. You can contact us on helpline number at +91-9474425752